About Us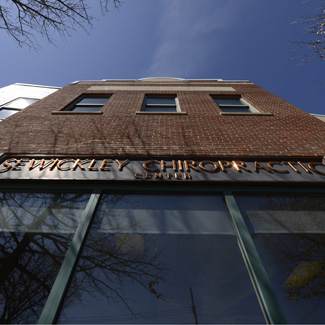 Dr. Jared Yevins has been at the helm of his successful Sewickley chiropractic care center since 2009. Because he's been a longtime chiropractic patient himself, he's had the opportunity to witness firsthand the many benefits that his patients at Sewickley Chiropractic Center enjoy:
Adults: helping grown-ups deal with pain, stress and headaches
Babies and children: helping kids to thrive
Auto accident victims: offering expert care in injury recovery
Seniors: assisting our older patients with arthritis and mobility issues
Workers Compensation: restoring function and eliminating pain for on-the-job injuries
We also provide cutting-edge care through the application of non-surgical, computerized spinal decompression, as well as various styles of therapeutic massage therapy. Although we have the tools and expertise to help most problems, our patients trust that we never treat injuries that are outside our scope of practice. We make sure you are where you need to be!
What Sets Us Apart
We want to help as many people as we can through the benefits of natural, drug-free health care. We consider ourselves to be a "community practice", lending assistance to people of all ages and from all walks of life. Our hope is to help each patient that walks through our door to feel better and stay that way.
Here are some of the ways that we're unique in the community:
Dr. Yevins is a certified medical legal specialist. His expertise allows him to act as an expert witness in the areas of car crash dynamics, spinal biomechanical engineering, and MRI interpretation. He receives many attorney referrals, and is frequently asked to participate in accident case reviews. His competence in this area creates a sense of confidence in the patients under his care.
Our office has a large staff of professionally licensed massage therapists. We offer various styles of therapy, ranging from deep tissue and hot stone massage to specialized pregnancy care.
We provide computerized spinal decompression technology for those patients suffering from disc problems, low back or neck pain, radiculitis and sciatica.
We feature an award-winning staff in a healing environment. Dr. Yevins was chosen as one of "America's Top Chiropractors" by the Consumers Research Council of America for the eighth straight year as of 2016.
Chiropractic Works
If you're new to chiropractic care, we can tell you with confidence that most people receive tremendous relief over a short period of time. Our patients also benefit when we complement their care with therapies such as massage or physical therapy modalities, leading to faster results and greater satisfaction.
If you give it a chance, chiropractic can be the solution you have been looking for. Contact us today for a free consultation! We're even open one Saturday morning a month for your convenience!

About Sewickley Chiropractic Center | (412) 741-5451