New Patient Center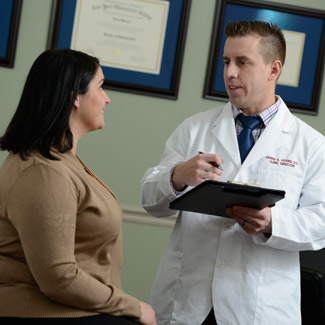 If you are visiting Sewickley Chiropractic Center for the first time, we would like you to know exactly what to expect. We want to provide you with a great experience, and will make sure that you feel welcome and supported every step of the way. Our office is often described as casual and comfortable, a place that instills confidence. We hope you agree.
New Patient Paperwork

Your First Visit
Plan to spend about one hour with us on your first visit. As you enter the clinic, you will be warmly greeted by our front desk assistant, who will invite you to sit down to complete your new patient paperwork. You will then meet with one of our doctors, who will conduct a thorough assessment, including:
A consultation, including a detailed health history
An orthopedic and neurological evaluation
X-rays, if necessary (we provide on-site imaging services)
If the doctor feels that MRI testing is indicated, we will refer you to a nearby local facility. (In this event, you will not be adjusted until an evaluation of the MRI can be completed.)
Your visit will conclude with your first gentle chiropractic adjustment, with the addition of possible therapies to help reduce your pain.[/two_thirds]
Your Second Visit
Your second appointment will take between 45 and 60 minutes. The doctor will deliver a report of findings, which is based on a thorough review of your examination and X-ray results. To help you achieve a better understanding of your problem, you will also be invited to view a video that relates to the pain you are experiencing.
Care options will then be discussed and a treatment plan formulated. You will then receive your second gentle chiropractic adjustment and the therapies necessary to help you heal quickly.
Regular Visits
Subsequent visits usually take about 30 minutes. Your chiropractic adjustments can often be accompanied by specific massage therapy or physical therapy modalities to assist in your rehabilitation. Our patients appreciate our customized treatment combinations, finding that they are able to heal in less time.
Our primary goal is to fix your problem in such a way that you experience maximum medical improvement. Our patients also relax in the knowledge that we never treat injuries or conditions that are outside of our scope of practice. We make sure you are where you need to be.
Contact us today for a free consultation! We're even open one Saturday morning a month for your convenience!
CONTACT US


New Patient Center | (412) 741-5451